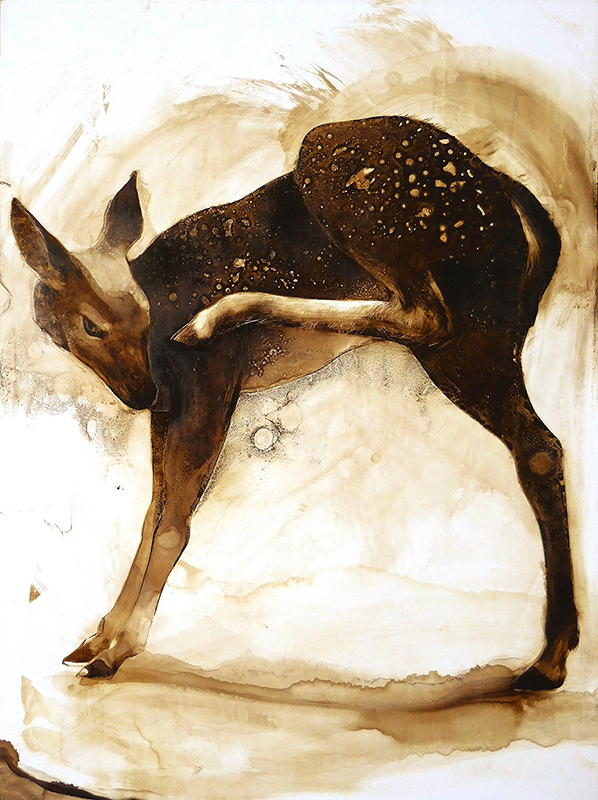 Artist talk with James Griffith

Part of Living Proof: Flora, Fauna & Fossil Fuels

SPACE 151, Levi Art + Architecture, San Francisco, California
February 22, 2018
Working with tar (sourced from the La Brea Tar Pits), Griffith draws the viewer into a sepia colored world that is suggestive of a vision of the origins of life. Tar is primordial goo made from extinct organisms over geological periods of time. Making painted depictions of living animals with tar suggests the transformative cycles of evolution and extinction. Tar reminds us of our own potential extinction as it is at the center of the ecological crisis caused by our need to burn petrochemicals to fuel our economy.
Artist talk with David George Haskell & Sasha Petrenko

Part of Living Proof: Flora, Fauna & Fossil Fuels

SPACE 151, Levi Art + Architecture, San Francisco, California
Saturday, January 27, 2018
David Haskell
's work integrates scientific, literary, and contemplative studies of the natural world. His latest book, The Songs of Trees: Stories from Nature's Great Connectors (Viking, 2017), examines the many ways that trees and humans are connected. His first book, The Forest Unseen: A Year's Watch in Nature (Viking, 2012), was winner of the National Academies' Best Book Award for 2013, finalist for the 2013 Pulitzer Prize in nonfiction, winner of the 2013 Reed Environmental Writing Award, winner of the 2012 National Outdoor Book Award for Natural History Literature, runner-up for the 2013 PEN E. O. Wilson Literary Science Writing Award, and winner, in its Chinese translation, of the 2016 Shenzheng Dapeng Nature Writing Award.
Sasha Petrenko is a California based interdisciplinary artist, educator and Artistic Director of
The New Urban Naturalists.
Her work utilizes sculpture, performance, prose and new media to draw parallels between ecology and human relationships. Petrenko's projects have been featured widely at national and international venues including the Headlands Center for the Arts, Southern Exposure, the Lab, Yerba Buena Center for the Arts, the de Young Museum of San Francisco, the Los Angeles County Arboretum, Robert Wilson's Watermill Center for Performance in New York, Oberpflalzer-Kunstlerhaus in Schwandorf, Germany and at Kulturfolger in Zurich Switzerland.
Fire!
Huntington Library, Art Collections and Botanical Gardens
Pasadena, California
September 30 – October 1, 2016
A natural occurrence in the chaparral of Southern CA, fire is no longer a way to manipulate the landscape, but a feared destroyer of real estate. Contemporary ecologists are working to change the narrative of destruction and help us understand the ecological importance of letting things burn. Join a group of fascinating speakers to explore our profound relationship with this primeval force. Artists, Scientists and thinkers will present talks on ancient pyrotechnology, fire based ecologies, Burning Man, the Alberta Tar Sands and fireworks.
Featuring presentations by:

Thomas Fenn, Director of the Yale Center for Ancient Pyro-technology

John Doyle, Jean-Lou Chameau Professor of Control and Dynamical Systems at Caltech

George Bennett, photographer

Erica Newman, fire ecologist

William L. Fox, Director of the Center for Art + Environment at the Nevada Museum of Art

Sara Hiner, musician
Eric Elias, pyro-technician

Mark Briggs, river ecologist with the World Wildlife Fund's Rio Grande/Bravo Programs

Mia Feuer, artist, Assistant Professor of Sculpture at CA College of the Arts

Flora & Fauna

Natural History Museum of Los Angeles
October 18, 2015


Featuring presentations by:

Joanne Northrup, Director of Contemporary Art Initiatives at the Nevada Museum of Art

Maura C. Flannery, Professor of Biology at St. John's University

Jim Folsom, Director of the Huntington Botanical Gardens

James Griffith, Painter

Mia Lehrer, Landscape Architect

Rosamond Purcell, Photographer

Natania Meeker and Antonia Szabari, Associate Professors of French, Italian and Comparative Literature at USC
Culture & Ecology

University of California Botanical Garden at Berkeley
February 10, 2012








Symposium organized by co-curators Shirley Watts and Mary Anne Friel in conjunction with the upcoming exhibition Natural Discourse: Artist, Architects, Scientists & Poets in the Garden opening July 13, 2012.


Featuring presentations by:

Chris Carmichael
The UC Botanical Garden: Public Garden and Living Museum

Hazel White
Panorama Sonnet, for UC Botanical Garden

William L. Fox
Global Gardens of the Anthropocene

Gail Wight
Nature out of sight, out of mind, and underfoot

Dale Clifford
Porous Boundaries (built and natural environments)